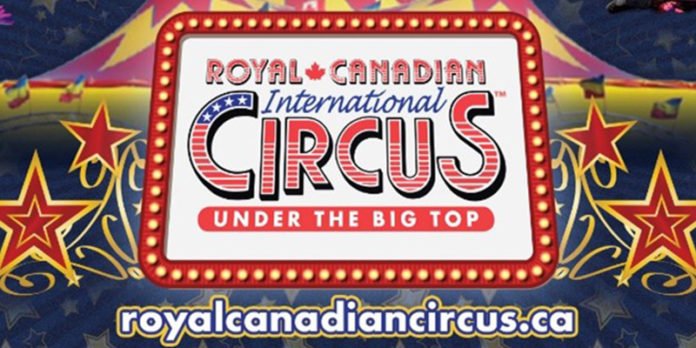 The Big Top is goes up at Cloverdale Fairgrounds for the Royal Canadian International Circus 2022 Starting this Thursday for 9 incredible shows June 23-26
The Royal Canadian International Circus opens this Thursday in Surrey at Cloverdale Fairgrounds, at 7:00pm and will run for a total 9 amazing show till June 26 the under the incredible European Big Top. After a 2 year hiatus, this is the first stop in BC. So far the show has performed to record breaking crowds in Minneapolis, Calgary and Edmonton. And Surrey will be no different. There has been an extra show added on Sunday at 7:45pm. The next stop in the Lower Mainland is Richmond Juen 30 till July 3 for 9 shows. The 14 stop tour goes till October 30, 2022 in Canada and the United States.
The show includes Daredevil extraordinaire, Joseph Dominik Bauer of Switzerland on the Wheel of Destiny, the thrilling trapeze artist Claudia Alvarado of Mexico, the astounding Chicago Boyz Acrobatic Team from America's Got Talent! Plus, The Human Rocket when Leo Garcia from Mexico blasts out of a Cannon, incredible feats of balance and strength as Gimmi Fornaciari from Italy goes high in the air and sings soprano, Valencia Gauchos from Argentina, Tenor Gimmi Fornaciari sings while Hand Balancing, Chair Balancing high in the air with Nathan Valencia, a very fun Human Slinky, Hula Hoops with Guillermina, Comedy with Piolita and daughter Lucita, Aerialist and more!
For 2 for the Price of 1 Go to www.royalcanadiancircus.ca Promo Code Family
Surrey, BC:
Cloverdale Fairgrounds, June 23-26, 2022 for 9 shows
6150 – 176 St (Tower Parking Lot)
Thu June 23 – 7pm
Fri, June 24 – 4pm & 7:30pm
Sat, June 25 – 12Noon, 4pm, 7:30pm
Sun, June 26 – 1pm, 5pm, 7:45pm