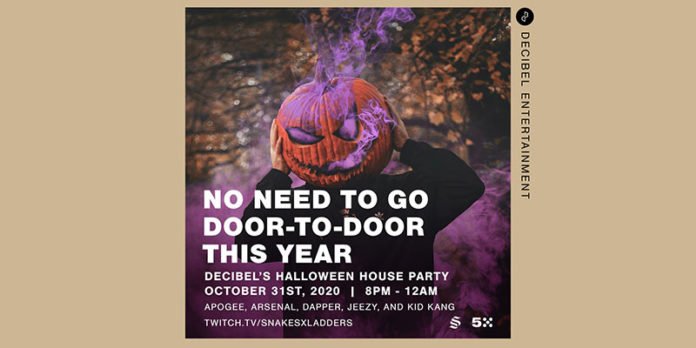 No need to go door-to-door this year – we're bringing the treats to you!
On Saturday, October 31st, tune into our Twitch stream from 8PM – 12AM and let the Decibel team handle the music for your Halloween party. We've got a stacked lineup featuring Apogee, Arsenal, Dapper, Jeezy, and Kid Kang, and they're ready to play all the Halloween classics, plus your favourite (family-friendly) Bhangra, Hip Hop, and Top 40 hits. We'll be taking requests too, so make sure you're logged into Twitch to send them in!
That's not all. We're also handing out a $150 gift card courtesy of our friends over at Tasty Indian Bistro. How do you get your claws on one? Our DJs will be looking for the most creative costumes and moves, so brush up on that Thriller choreography, put in those fangs, and join our Zoom party.
It's going to be a spooktacular time. We'll see you on the 31st!
---
Treat Your Ears
There's nothing Sequence loves more than getting you to hit that 1, 2-step. His expertly added 808s & snares are reminiscent of the very jhanjars Karan Aujla refers to in this flip. With Bhangra at the forefront of his mind, Sequence gave this fan-favourite an upbeat update. Add this to your workout playlist to prep for our House Party!
---
In Case You Missed It …
Essbee's latest remix gave us an extra reason to be thankful this past long weekend. He's laid a classic Punjabi groove over a reimagined bass line that'll really make your subs woof. Check out his take on A Kay & Bling Singh's record, Munda iPhone Warga (don't worry – it's Android-friendly, too)!