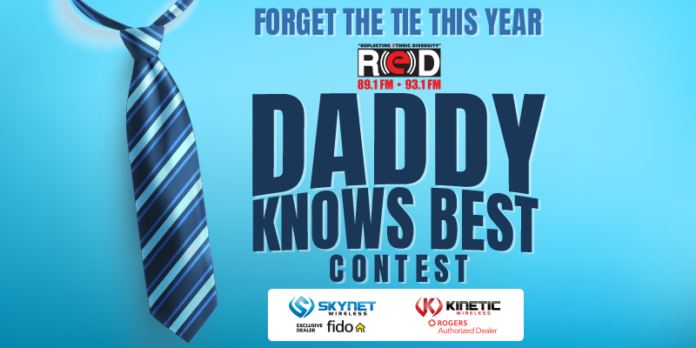 Forget the tie this year, and win your father or fatherly figure one of five amazing prizes this Father's Day
From June 12th-16th tune in at 9:31am, 11:31am, 2:31pm & 4:31pm listen to the Father's Day word of the hour. Once you hear the word text it to 604-591-9311 and five correct texts will be randomly chosen for the Daily Grand Prize Draw
Prizes include: Cologne, $100 Gas Card, Sony Waterproof Wireless Speaker, Rayban Sunglasses & Samsung Galaxy Ear cancelling headphones
Good luck & Happy Father's Day
---
Sponsored by:
---
Full Contest Rules
No Purchase Necessary
Contest is open to all persons residing in British Columbia who have reached the age of Majority (19)
Contest will only be played on-air June 12th-16th
RED FM will announce a different Father's Day word of the hour at 9:31am, 11:31pm, 2:31pm, 4:31pm
Callers will have 5 min to safely text in the correct "word" announced to the on-air number 604-591-9311
RED FM is not responsible for any charges incurred from a cell phone provider during the contest.
RED FM will randomly choose five winners from the correct answers texted and put them in the Daily Grand Prize draw
Grand prize draw will take place during Zabardast Hits. The name randomly drawn must pick up their phone to claim their prize. If randomly chosen caller does not pick up their phone a new name will be drawn. Once a winner is determined they will choose an envelope which will include one of the five grand prize draws.
Grand Prize winner can only win once during the duration of the contest
Value of Prize: $100 each
Correct answers will only be accepted via text message and not through any other service eg) WhatsApp, Instagram, Facebook, Twitter etc.
Only one correct text message per phone number will be accepted, those found texting more than once will be disqualified.
Only one person per household can be entered in the grand prize draw once during the duration of the contest. If found registering more than once during the contest will result in having their name disqualified.
Grand Prize winners can only win one prize every 60 days, or else they will be disqualified.
Prizes are not negotiable.
Only one person per household can enter the Grand Prize final draw
Red FM reserves the right to use contestant's names, images and recorded media in any format for our own purposes indefinitely.
Red FM is not responsible for any technical problems incurred during the course of the contest by the contestant, Red FM, sponsors or any participants.
Contest rules may be subject to change at any time exclusively by Red FM.