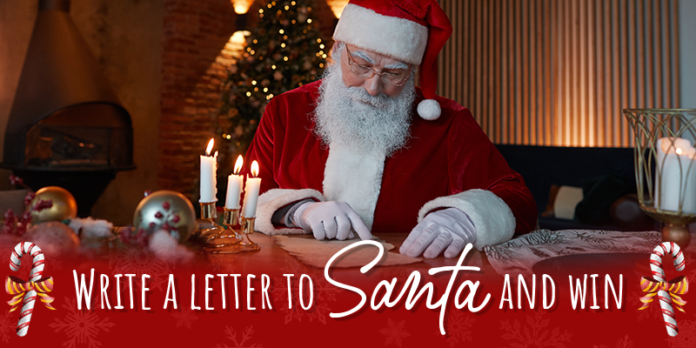 Christmas is the most fun time and RED FM is here to turn up your excitement.
Write a letter to Santa and share your most fun and memorable stories from 2022. We want to know what's the best thing that happened to you this year, or about the person who made your life loveable, or about the things you are most grateful for.
Santa can read Punjabi, English, and Hindi so feel free to write in any of these languages!
(1-page letter)
All entries will be placed in a random draw and one lucky entry will win a $50 Gift Card
Eligibility:
12-year-olds and under
Where to send:
E-mail [email protected] to convey your letter to Santa.
Don't miss the deadline to write your letter to Santa: December 15, 2022, | Thursday till 6 pm.
Special instructions for parents
Please make sure that no personal or sensitive information is included in the letter other than the name and age of the child before sending the e-mail.
Provide in-written consent to announce your child's full name on-air.
Winner will be announced Wednesday December 21, 2022 during Roshni show
---
Complete Contest Rules and Regulations:
NO PURCHASE NECESSARY
Contest is open to all persons residing in British Columbia who have reached the age of majority (19) with Canadian Government Issued Photo ID.
Contest will run Dec. 1st until Dec. 15th 2022
Prize Total: $50
Prize winners can only win once every 60 days. If a previous winner is found winning more than one time in 60 days, they will automatically be disqualified.
One winner per household
Prize is non-negotiable
Prize winner must book an appointment with reception to claim the prize and must appear by themselves. The prize winner must follow the safety precautions when entering the building and must claim the prize within 30 days of winning. The prize winner must provide Canadian Government issued photo identification when collecting the prize and the address on the government ID must match the address given at the time of winning.
RED FM reserves the right to use contestant's names, images and recorded media in any format for our own purposes indefinitely.
RED FM is not responsible for any technical problems incurred during the course of the contest by the contestant, Red FM, sponsors or any participants.
Contest rules may be subject to change at any time exclusively by Red FM