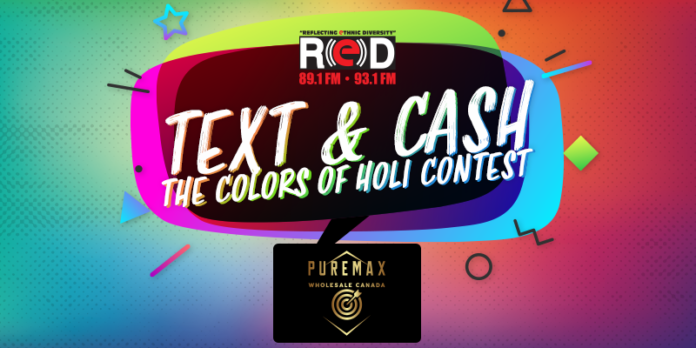 This Holi RED FM is giving you a chance to win $250
How?
On March 8th RED FM will randomly announce a different color from 8am to 6pm. Once you hear the color, you will then safely text it in to 604-591-9311 within 3 minutes from the time the color is announced.
RED FM will then randomly choose from the correct answers texted and call back one lucky random listener that will have their name entered into the $250 Grand Prize Draw.
---
Sponsored by:
---
Full Contest Rules
No Purchase Necessary
Contest is open to all persons residing in British Columbia who have reached the age of Majority (19)
RED FM will announce a different color on Wednesday March 8th from 8am to 6pm.
One you hear the color you will only have 3 minutes from the time the color is announced to safely text it to 604 591 9311.
Out of all the correct answers texted one random eligible caller will be called back to have their name placed into the Grand Prize Draw.
Value of Prize: $250
Only one person per household can be entered in the grand prize draw once during the duration of the contest. If found registering more than once during the contest will result in having their name disqualified.
Grand Prize winners can only win one prize every 60 days, or else they will be disqualified.
Prizes are not negotiable
Only one person per household can enter and win the Grand Prize Draw
Prize winner on RED FM can only win one Grand Prize every 30 days
Red FM reserves the right to use contestant's names, images and recorded media in any format for our own purposes indefinitely.
Red FM is not responsible for any technical problems incurred during the course of the contest by the contestant, Red FM, sponsors or any participants.
Contest rules may be subject to change at any time exclusively by Red FM.