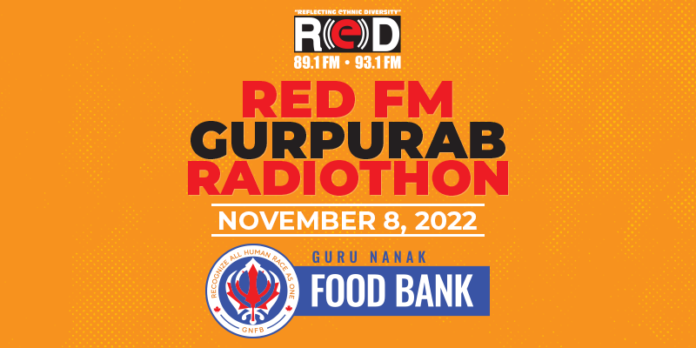 This year's Annual RED FM Gurpurab Radiothon on November 8th will start from 6 AM onwards. This year's Radiothon is dedicated to Guru Nanak Food Bank (GNFB).
Guru Nanak Food Bank (GNFB) started on July 1st 2020 to help new immigrants and people in need. It has been growing its operations to serve the needy people. GNFB needs a bigger building to store their food inventory and continue to serve our community.GNFB will use the proceeds from RED FM Gurpurab Radiothon towards their Infrastructure project of a new warehouse office.
RED FM will designate 100% of the donations to GNFB.
How to Donate on November 8th, 2022:
Phone: Please call 604 598 9311 to donate using your credit card.
In-person: you can visit the RED FM studio to personally donate.
Cheque: You can also mail your donation cheque payable to Guru Nanak Food Bank at the following address:
RED FM
#201 8383A 128th St., Surrey B.C. V3W4G1.
RED FM does not retain any portion of the donations.
How GNFB Will Use Your Donations:
GNFB will use your donation towards its warehouse office project.
Donor information and Tax Receipts: Donor information will be provided to and retained by GNFB for processing donations made during the Radiothon. GNFB may use the information provided during the Radiothon to send you tax receipts and thank you letters.
RED FM and GNFB would like to thank you for your support.