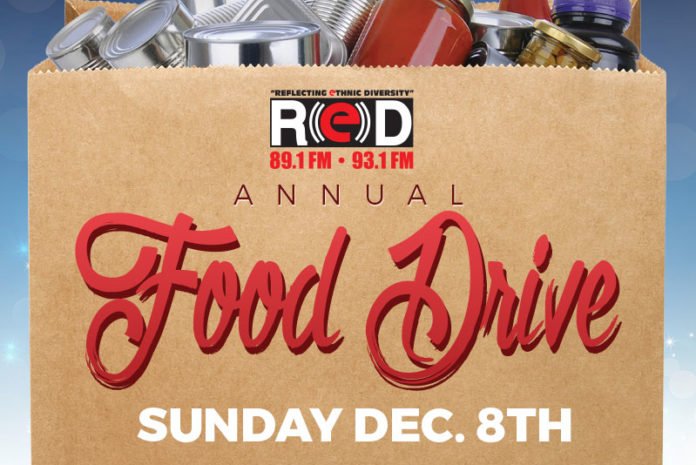 When:
December 8, 2019 @ 11:00 am – 5:00 pm
2019-12-08T11:00:00-08:00
2019-12-08T17:00:00-08:00
Where:
RED FM Studio
#201-8383A 128 St. Surrey
BC V3W 4G1
As a non-profit, charitable organization, the Surrey Food Bank operates only due to donations of money and food. These donations come from individuals, organizations and corporations as well as various fundraising efforts. No government funding is received.
The Surrey Food Bank serves a family every 42 seconds and a total of 15,000 people visit the Surrey Food Bank every month and hand out over $30,000 worth of product daily.
The top eight most needed items:
Canned protein (Fish & Meat)
Canned Fruit
Canned Vegetables
Meals in a Tin (e.g. Pork n' Beans or Stew)
Whole Grain Rice
Pasta and Pasta Sauce
Healthy canned soups
Baby formula (large cans)
Tiny Bundles
Those registered for the Tiny Bundles Program (families with pregnant Moms and children under one year of age) are welcome once every 7 days. These families receive a full week's worth of nutrition, along with diapers, baby food and other items. We extend the benefits of the Tiny Bundles program as the child grows through the Toddler Totes and Pre-K nutritional bundle packages that are included in the family's regular food selection.
Tiny Bundles Program – Most needed items
Formula:
We always need powdered formula! Large cans preferred so families receive a one-week supply
Diapers:Larger sizes are in short supply. Size 4 to 6 are preferred
Cereal:
We often need food for babies older than six months.
Baby Jar Food:
Fruit, Meals and Vegetables (both large and small jars)
**Please note: Items must be new. Food cannot be expired**
RED FM cannot thank you enough for your continued and generous support of our Food Drive.
Thank you for helping us feed the community!