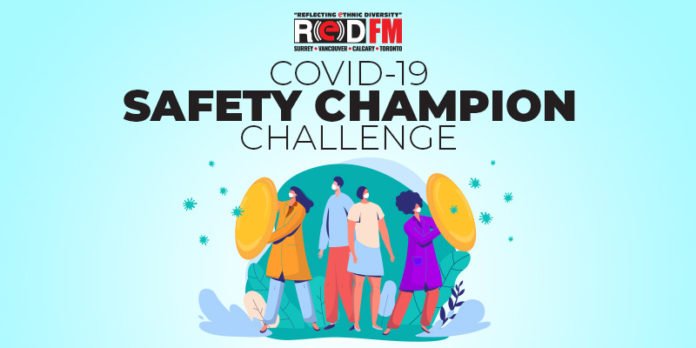 As COVID-19 positive cases are increasing in BC, and the maximum numbers are being reported in the Fraser Health region, we all need to do our part to flatten the curve once again. To that end, community leader and partner, RED FM has launched COVID-19 SAFETY CHAMPION CHALLENGE.
We encourage you to accept the challenge and send us audio saying:
"I (name) accept the COVID-19 SAFETY CHAMPION CHALLENGE. For the next two weeks, I will not host or attend a party or social gathering, and if invited, I will politely decline."
Your audios will be played on-air.
WhatsApp your audio or video on 778-822-9311
---
Be a COVID-19 SAFETY CHAMPION and challenge family and friends.
Accept the challenge on social media and share your video on:
Facebook – RED FM 93.1
Instagram – redfmvancouver
Twitter – @RED931FM
---